The Battung brothers (from left): James, Roderick, Joey and Louie.
Once an ordinary employee, Roderick Battung now has 90 outlets of his pharmacy business
By Sam Christopher Lim
Franchising allows you to escape the "corporate world" and become an entrepreneur that helps creates jobs and, eventually, wealth. It's not always easy, but the rewards both financially and emotionally are immeasurable.
Owning over 90 branches of The Generics Pharmacy (TGP), Roderick Battung has not only proven to be a very successful franchisee, he has also generated hundreds of new jobs. Roderick was an employee of pharmaceutical companies such as GlaxoSmithKline and Xeno Pharmaceuticals before he decided to "get out of the corporate world." He wanted to augment his income as well as help provide employment for friends and relatives, so he naturally turned to franchising.
Like most potential franchisees, he started looking at various industries from food, water refilling stations and gas stations. But after a long search, he decided to go into The Generics Pharmacy because he saw "the potential of the pharmaceutical retailing industry and also felt the sincerity of Mr. Ben Liuson (founder of TGP) in helping franchisees."
"The business concept has a 'heart' and it caters mostly to low income earners, so I saw great potential in this business," he added.
Decisiveness is key in business, especially when you are franchising a brand that you just know will do well. "One day, a TGP Franchisee (Jojo Macua), who was working at our pharma company, showed me his drugstore located in Tondo. I was amazed to learn that he has more than one branch and was managing it while working. He intimated that aside from profits, the smile they bring to customers buying low-priced medicines gives him much joy. Immediately, I asked my mother to spare me a space in her rented place in our hometown. Jojo helped me accomplish the application at TGP. In a few weeks, the approval came. We immediately recruited a pharmacist, started renovation of the site and prepared our staff."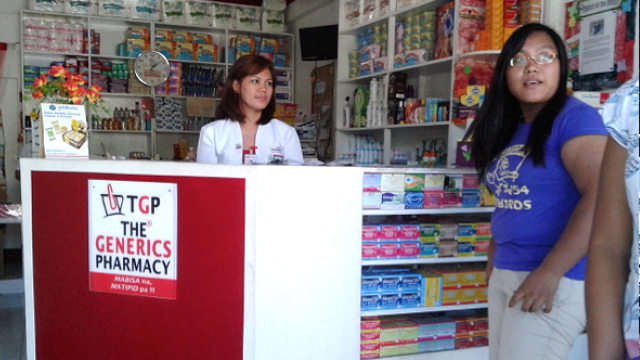 Ricky Battung's TGP branch in Aparri
From the first store, Battung opened numerous branches in Cagayan Valley. When he heard about a franchisee selling a few of her branches in Laguna, he immediately grabbed the opportunity. From there he has since expanded to the Ilocos Region, Laguna, Leyte, Iloilo, Negros Occidental, Agusan Del Norte, Surigao Del Sur, Davao City and other cities.
Being in a franchise that has a very well advertised brand name, steady supply of stocks and low-priced products that caters to many Filipinos in the province, Battung has truly enjoyed his franchise experience with TGP. But of course there are also challenges, so for would-be franchisees, he has a few pieces of advice:
– Go into a business you know and love
– You must be willing to do your share and not rely only on the franchisor. Use your time and energy and talent and capability to make the business grow. Success is not automatic, nor assured. You need to put good business sense into it.
– Choose a franchisor you can trust, and one who genuinely looks after your welfare, wanting you to succeed, and not just interested with your franchisee fee or purchase of their products.
Franchising has helped Battung and many others like him transform from being an employee to being an employer, become more aware of economic conditions of many Filipinos, especially in remote areas, and most especially, have more time for family and personal activities. He now employs over 360 working in the company, many of whom are preachers of the Good News who are able to financially support their ministry through (part-time) employment with the company. And when asked whether it has been profitable for him and if he plans to open more stores, he gives an emphatic "Yes!"
Time to Be the Boss! Find over 700+ franchise brands in the Franchise Asia 2018 Expo on Jul 20 to 22 at the SMX Mall of Asia. Contact the Philippine Franchise Association at (+632) 579-4841, 0917-8320732, pfa@pfa.org.ph or visit https://franchiseasiaph.com
*This article is copied and originally published by Entrepreneur Philippines on Jun 4, 2018 and is also available online at https://www.entrepreneur.com.ph/franchising/franchise-talk-how-a-pharma-salesman-became-a-pharmacy-chain-owner-a1139-20180604