Jennylei Caberte (The Philippine Star) – July 16, 2018 – 12:00am
MANILA, Philippines — Former expatriate Unilever senior global brand manager and current U-Franchise Sales and Management president Sam Christopher Lim has what it takes to lead the country's bid to market and establish the Philippines' franchise brands in the global market.
Still young at 36, Lim is already stacked with a wealth of knowledge and experiences on how to compete in the international market. He had spent over 10 years as regional brand manager of Unilever Thailand and Unilever China, and as senior global brand manager of Unilever United Kingdom.
His enviable positions gave Chris (as his family fondly call him) and his wife Gift, also a former Unilever executive with their two kids, a relatively comfortable life but when his home country beckons for service, he obliged despite the sacrifices and challenges that lie ahead.
"Honestly, it was not an easy decision because I was making good money in Unilever. I was an expat there and life was comfortable. You could spend weekends in Paris if you want. But my wife was pregnant and well, we thought it was time to settle down after working 10 years overseas," he shared in an interview.
A BS Management Engineering graduate from Ateneo de Manila University, Chris now wears several hats. He is the president of U-Franchise Sales and Management, the largest franchise-matching company in the Philippines that is a joint venture with the Singapore-based Astreem Consulting Ltd. The company has an excellent track record, having worked with major brands, such as Jollibee, Max's Group, Inc., Bench and various Philippine franchise brands to help them expand globally.
Lim is also the chief marketing officer of Francorp Philippines which specializes in preparing businesses to grow through franchising. "My life now revolves on franchising. I was lucky enough that I grew up in an entrepreneurial family. Apparently, we were born to be involved in business and become entrepreneurs," he said.
Lived and breathed entrepreneurship
Even as a child, Chris already lived and breathed entrepreneurship. His summer vacations were spent in their grandfather's Automatic Centre office filing invoices with his brothers. During break time, they play with their family computers in the selling area so they can also demonstrate the units for customers. Lim recalled having sold cassette tapes to his friends and classmates in Xavier School. During weekend, he and his brothers sold juice to customers in their warehouse store.
He cites his Jesuit education as a major reason why he opted to return to his country. "Because of his Jesuit education also from Ateneo, my father instilled in us a sense of service, of being 'men for others'. He used to tell us that the Philippines has been good to our family and it's important for us to give back. Some people join the army to be of service to the country, but our skills are in business, so we serve by ensuring our business contributes back to society, and this is especially true for franchising," he explained.
image: http://media.philstar.com/images/the-philippine-star/business/science-and-technology/20180716/usual1b.jpg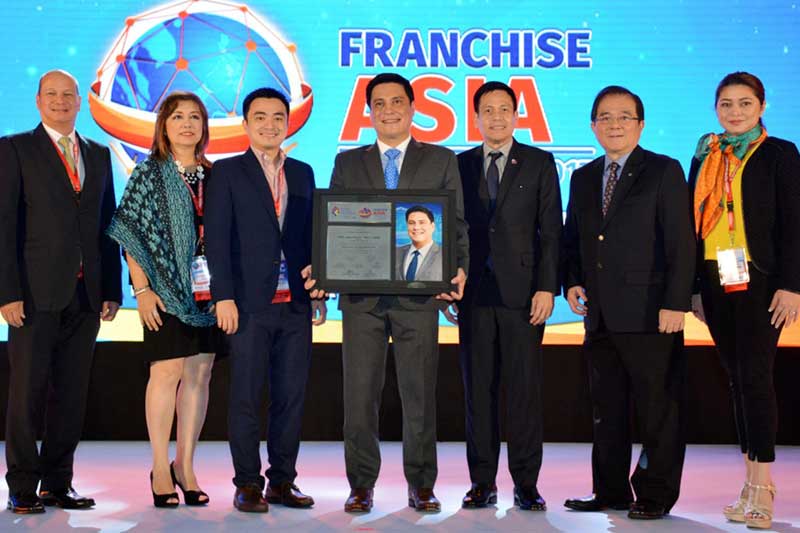 Chris Lim (Francorp/ Blims Lifestyle/ La-Z-Boy) with Philippine Franchise Association Board Officers (from left) vice chair Robert Trota (Max's Group), vice char Yvette Pardo-Orbeta (Wendy's Philippines), Sen. Migz Zubiri (center), chairman Alan Escalona (Fruit Magic), chairman emeritus Samie Lim, and director Sherill Quintana (Oryspa) presenting the plaque of appreciation to Sen. Zubiri as guest speaker at the Franchise Asia Philippines 2017 International Conference.
Chris's father is Samie Lim, chairman emeritus of the Philippine Franchise Association and Philippine Retailers Association, and the universally acknowledged "Father of Philippine franchising." The older Lim is also the chairman of BLIMS Lifestyle Group and Canadian Tourism Hospitality Institute and the former president and current director for tourism of the Philippine Chamber of Commerce and Industry, the country's largest business organization.
Aside from the values learned from the Jesuit's men for others mission statement, he also had been exposed to mathematics-centric subjects that stress logic and things that are measurable.
Lim graduated with honors in Management Engineering from the Ateneo de Manila University, studied in the National University of Singapore and pursued post-graduate studies in Oxford University, UK where his project on 'Franchising: An Innovation Strategy Perspective' helped him graduate with distinction honors.
He was awarded the Young Market Masters Award for his role in growing brands in the Asian region, the International Master Franchise of the Year at the Franchise 2017 Franchise Excellence Awards of the PFA and is a regular columnist in Entrepreneur.com.ph.
Overall chair of Franchise Asia Philippines 2018
Right now, Lim is preoccupied in promoting franchising in the Philippines and in the ASEAN region. Along with other officials of the Philippine Franchise Association (PFA) – the country's pioneer and premier franchise organization – he eagerly looks forward to the forthcoming Franchise Asia Philippines 2018 slated from July 18 to 22 at the SMX Convention Center in Manila. "We want to create a more dynamic and inclusive franchise show," he stressed.
As the Overall chair of Franchise Asia Philippines 2018, Chris who's also the current PFA chair for ASEAN, said the Franchise Conference is veering away from the traditional setup of gathering people in one big room listening to speakers for two days. Instead, there will be panel discussions and 14 different breakout sessions focused on various concerns, including digital transformation, marketing operations, human resources, finance and even halal products.
The event will also have over 20 roundtable sessions to enable networking among the participants, and learn from sharing their experiences. Lim said PFA gives a 50 prcent discount to provincial delegates to encourage broader participation.
"Our focus before was Metro Manila to promote inclusivity. Four years ago, five percent of the clients come from Metro Manila. Now it is 40 percent," he said.
To spice up the event, Lim said PFA is organizing a 'great debate' to determine whether social media influencers or celebrity endorsers are more effective in building up brands. The audience will decide and track the change in the opinion room.
The conference will also have a nextgen program to enable young entrepreneurs to pitch their project to an audience of 1,000 franchise leaders. The community will determine the winner by their votes.
For the Expo on July 20 to 22, Lim said PFA expects over 700 brands to join the event, and more than 52,000 attendees.
The expo, he added, will conduct over 10 different seminar-sessions for owners and investors.
With the capacity of the exhibition area doubled from last year, he expects the food park this year to showcase new franchise brands from around the country.
For people interested to go into franchising, PFA will put incubation booths to guide aspiring entrepreneurs. PFA will likewise put up regional pavilions for micro entrepreneurs across the Philippines so they will be noticed by consumers and businesses alike, both local and international.
Create more jobs through franchising
Lim spent over a decade growing brands globally as senior global brand manager Sunsilk for Unilever UK from 2010 to 2013, where he engaged in innovation development, leading a cross functional team to develop concepts, packaging, advertising and 360 degree launch plans for Unilever's largest hair brand.
He was regional brand manager Lux China, Japan and Northeast Asia in Shanghai for Unilever China from 2008 to 2010 where he led the brand relaunch of Lux Japan and China.
He was also regional brand manager Sunsilk Asia from 2006 to 2008 for Unilever Thailand where he handled the Southeast Asia and South Asia regions.
Lim is bullish and optimistic about the country's franchising industry. He said the Philippines has a lot of potential in the industry, and PFA sees a conservative annual 10 to 15 percent growth of the industry this year until 2020.
"Franchising creates millions of jobs. I decided to leave selling shampoo and pursue creating jobs, developing entrepreneurs and developing the economy through franchising. I decided to continue building the foundation with the help of my dad, Tita Bing (Limjoco, the current president of the Philippine Chamber of Commerce and Industry), and the PFA team," he said.
"It is time indeed to return home and bring back the skills I learned from abroad and take franchising to the next level," he said.
This article is copied and originally published by The Philippine Star on July 16, 2018 and is also available online at https://www.philstar.com/business/business-as-usual/2018/07/16/1833772/chris-lim-selling-shampoo-creating-jobs-through-franchising