The Mang Inasal leadership team headed by general manager Jojo Subido (center, standing). Mang Inasal/ Released.
The quick service restaurant favorite won the Outstanding Filipino Franchise and the Best Overall Marketing Campaign Award last July 20 at the SMX Convention Center.
Mang Inasal, widely known for Pinoy-style "nuot sarap" grilled chicken and other quality popular Filipino dishes, has once again proven why they deserve the honor of being the top grilled Pinoy branded outlet in the country after winning the Outstanding Filipino Franchise, as well as the Best Overall Marketing Campaign Award at the 2017 Franchise Excellence Award (FEA).
Considered the "Oscars" of the franchising sector, the FEA is the country's first and only industry award that recognizes top home grown and international franchisors in the Philippines. FEA celebrates the country's best-managed companies that serve as benchmarks for franchising businesses.
This year's ceremonies were held on July 20, 2017 at the SMX Convention Center in Manila.
The Outstanding Filipino Franchise Award is an honor bestowed to franchises that have become standards in national market penetration through excellent franchise operations and corporate governance. The award, which Mang Inasal won for the Large Food Category, places Mang Inasal in rarified circles, as it has won it in consecutive fashion, elevating the company into FEA's prestigious Hall of Fame.
The win was largely keyed by Mang Inasal's launching of the Franchisory Advisory Council and other relevant initiatives, resulting in substantial net profit growth.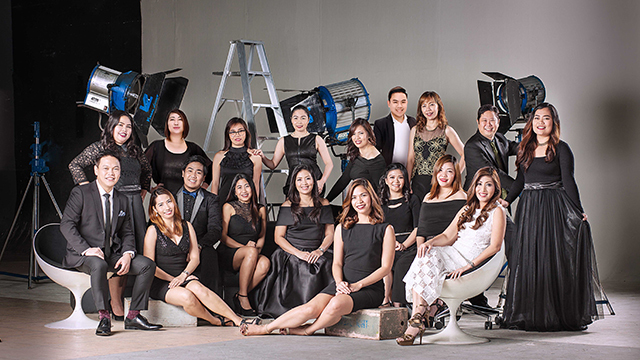 The Mang Inasal marketing team headed by Aileen Ricasata-Natividad (right, seated). Mang Inasal/Released
The award for Best Overall Marketing Campaign in the Large Scale Business for Food Category is given to companies with successful and effective marketing programs that significantly contribute to company growth and the advancement of the franchising sector.
Mang Inasal strengthened brand communications through effective marketing campaigns, which resulted in impressive growth for flagship products. Brand love initiatives further raised the company's profile and reached more customers by reinforcing its position as the QSR (quick service restaurant) that truly understands unique Pinoy dining quirks, as seen in its successful Sarap ng Kaing Pinoy campaign.
"These awards are more than just an affirmation of business viability," said Jojo P. Subido, Mang Inasal Philippines, Inc. General Manager. "This means our customers do love what we offer, and it is truly an honor. We are committed to continuously improving our products and services to give back to our partners, stakeholders and of course, our loyal customers."
According to Kantar Worldpanel, a global expert in monitoring and analyzing shopping behavior, Mang Inasal is the top grilled Pinoy branded eat-out in the Philippines. Kantar Eat Out Panel is a continuous panel of individuals from Metro Manila, looking at consumer eating out purchase behavior.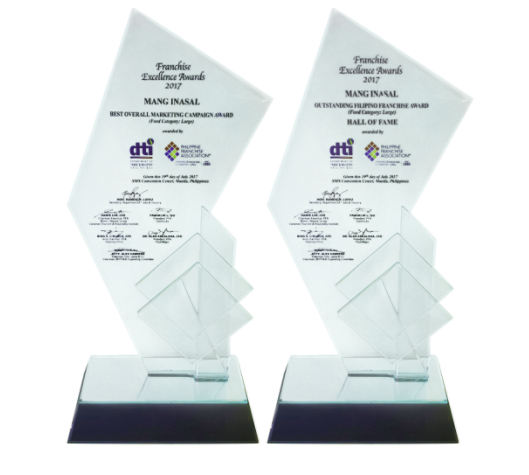 With these two major wins at the at the 2017 Franchise Excellence Awards, Mang Inasal has once again proven its place in the local food industry. Mang Inasal/Released
---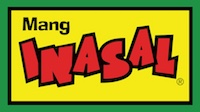 Mang Inasal, a subsidiary of Jollibee Foods Corporation, is the leading Pinoy branded outlet in the cf its gountry, with its strong portfolio of Chicken Inasal, Pork BBQ, Halo Halo, and Palabok. Variations in the menu are constantly being developed to meet the discriminating demands orowing customer base.
This article is copied from the Philippine Star and can be found online at http://www.philstar.com/business-life/2017/08/07/1724896/mang-inasal-bags-top-franchising-awards